GETTING PERMISSION TO HUNT ON PRIVATE LAND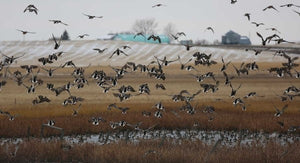 I had my decoy trailer in tow. It was time to scout for waterfowl and find the winning spot…
And ask permission. Hunting sure comes with its hurdles.
Our destination was a barley field swarming with geese and ducks. Feeling positive, I asked for permission to hunt it. The landowner was thrilled to hear the birds were in his field—but that he planned to hunt them himself. We talked goose hunting for several minutes before I headed out to look for a new field.
We covered lots of miles before finding the best we could dream up—10,000 geese in a harvested pea field! I didn't need to watch more than a minute before scurrying to the landowner's house.
Turns out our strategy to go farther from the big city was falling flat, and fast. The field was already spoken for and would be hunted the following morning. Determined to find success we headed out again and managed to locate a small concentration of ducks. 
Take Three
It was time to try again. I knocked on the door and held my breath—hoping I'd be successful at obtaining permission this time. A pleasant elderly lady answered the door and when I explained what we were doing and where the birds were feeding, she pumped her fist and exclaimed, "Go get them!" 
It was the best news I had received all day. Her enthusiasm created even more excitement for me, knowing this was the right field. Being persistent paid off big time—what a memorable hunt it was!
Finding Landowners
County maps that list landowners and show locations of residences are hands down the best tool when spotting waterfowl. With one person driving and a second navigating, you'll know exactly who to contact when you locate birds. I like to use my iPad and download most of the maps free of charge from county websites.
Several smartphone apps can help mark approaches to a field as waypoints. Don't forget to record landowner information for future hunts—I keep notes right on my map.
The Big Ask
You are always better off asking permission in person. It helps reassure landowners you'll respect their land and crops. A phone call can work, and if all else fails, a neighbor can likely point you in the right direction or supply a number.
Be confident, friendly, and don't hide your excitement. And if at first you don't succeed, as in our case, try and try again!