FINAL APPROACH PARTNER SPOTLIGHT - FEDERAL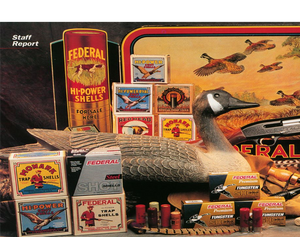 FINAL APPROACH PARTNER SPOTLIGHT
FEDERAL AMMUNITION'S 100TH ANNIVERSARY By Brad Fenson
Quality loads for every scatter-gun application.
Ever since Federal started up its manufacturing efforts in 1922, shotshells were always its' bread and butter. Then during its 100-year lifespan, Federal eventually, and meticulously, developed a shotshell for every situation and activity.
Federal has sat atop the awards podium with its target shotshells many times. From the original Hi-Power shells to dedicated Skeet loads, top-end shooters were quick to discover the advantages of Federal's line of shotshells. Simultaneously Federal produced shotshell for hunting everything under the sun. So, whether hunters stalk the forests or wade in the wetlands, Federal had a shotshell to bag whatever game they are after. A list of the industry's best, and ever important, home defense loads were also offered with great pride from the brand Law Enforcement personal defenders grew to trust most.
Federal's huge shotshell lineup didn't happen overnight. It a long time adapting new technology, manufacturing processes, material sourcing and many other efforts for its massive product lineup to become the powerhouse it is today. Check out Federal complete, current lineup to see what you might be missing from your ammunition locker.
The pursuit of waterfowl is a messy, water-logged endeavor that can introduce a litany of problems for hunters and their firearms, but a trip to the wetlands shouldn't break the bank nor cause undue frustration from faulty ammo. Federal shotshells in the distinctive Federal blue box signify value without compromise. Speed-Shok shotshells have clean and fast-burning propellants, high-performance primers, and optimized velocities specifically suited to clipping waterfowl from the sky. Speed-Shok is available from .410 bore through 10-gauge and is the "go-to" shotshell for high-volume hunts.
When hunting waterfowl, opportunities come at you fast. Upgrading to bismuth shotshells makes you faster. Federal partnered with the crew to bring a new line of bismuth to the waterfowl community. The Federal Premium Bismuth performs similarly to lead, with effective killing power at greater ranges, benefitting upland and waterfowl hunters. These new shotshells are available in a wide selection of 12- and 20-gauge loads and are malleable enough to work in older shotguns and full chokes. The quality Federal Premium Bismuth, at 9.6 g/cc density, will hit birds like traditional lead and, by using Black Cloud technology with FLITECONTROL FLEX wads that produce tight patterns, provide more killing power at longer ranges.
Black Cloud is a premium shotshell with unique wads, shot combinations, and performance. As the needs of the waterfowler have evolved, Black Cloud has evolved right along with them. Hunters who embraced the unique blend of steel pellets and premium performance have trouble putting anything else in their smoothbores. The most significant change to Black Cloud shotshells was the addition of the FLITECONTROL FLEX wad, allowing these already superb rounds to be shot out of any ported barrel or choke. These are incredibly versatile shotshells that deliver safety and performance thanks to plated heads, premium primers, temperature-stable powders, and the rear-opening FLITECONTROL FLEX wad ensures tight patterns through any choke. The standard Black Cloud shotshell is loaded with 40 percent FLITESTOPPER steel and 60 percent premium steel.
During the mid-1990s, Federal began experimenting with non-toxic options that offer higher densities than steel or bismuth. In 1996, the company announced their first tungsten waterfowl load. Initially, it was met with skepticism since many hunters only saw the higher price, not the benefits. Tungsten is double the density of steel, and 56 percent heavier than lead, allowing pellets to maintain velocity and penetrate at greater distances. A little more than two decades later, Federal started loading Black Cloud Tungsten Super Shot (TSS), the industry heavyweight with the highest density and most effective range. Black Cloud TSS is the benchmark for waterfowl shells. The small No. 9 tungsten shot combined with FLITECONTROL FLEX wads create dense, consistent patterns and make up 60 percent of the shotshell. The final 40 percent are the No. 3 steel pellets that have a FLIGHTSTOPPER ring to allow them to spread quickly. Premium primers and powders round out the TSS shell.
Federal Covers all Bases
From the winners' podium to the bedside of responsible citizens protecting their loved ones, Federal's line of target and defensive shotshells handle every shot gunning task, ranging from the exciting new Shorty loads to the new High Overall. And from big, woodland game to small, fast fowl, the vast collection of Federal shotshells have every hunting need covered with more than twenty products under its Waterfowl, Slug & Buckshot, Turkey, and Upland categories including legendary products such as Black Cloud, Prairie Storm, Heavyweight TSS and more.
Whether you are looking for value or industry-leading performance, you'll find a dependable and repeatable results with a Federal product that's ideal for your needs.