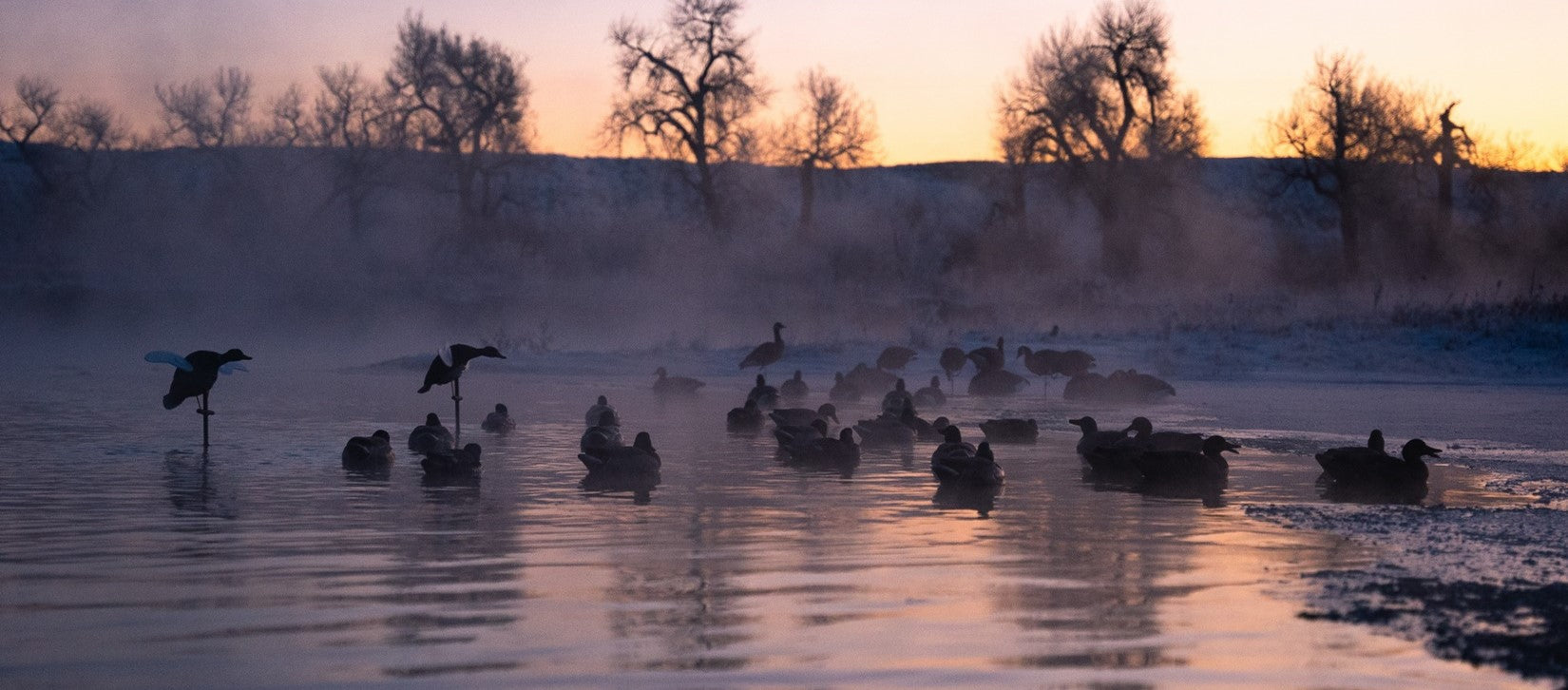 COLD WEATHER HUNTING TIPS
COLD WEATHER HUNTING TIPS
by Mario Friendy
This past year we spent a week in Montana and Wyoming and the temperatures were brutal.  We field hunted and we hunted on a riverbank in -10 Degrees. 

The first key is for you, your friends, and the dog to stay warm so you make it through the hunt with no issues. 
HUNTING OVER WATER 

The first thing is to make sure you are layered well with clothing and while setting up don't have every layer on. If I end up with a jacket over my waders, I might not start with that on at setup. Same goes for headwear, I usually wear a baseball hat setting up then move to a beanie.    The next thing to be extra careful setting up and not falling in, that ends the day right there with you or any of your group.  If you have a S.U.B. blind or a permanent blind, make sure you all have a portable heater by you.  This will keep your feet and the rest of you happy.  It will also make it so you can move in your waders.  Keep the dog as warm as possible with a heater by him and keep him on a dry mat or spot on the bank or in the blind so he is not sitting on snow or ice while waiting for his next command.

As for the birds, whether ducks or geese on the water, they will group together tighter, and they will absolutely fly a little later if temperatures are that drastic.  If you are hunting a food source or a freshwater spot in between the roost and food, you will do just fine.  Just sit back and work those small groups as long as it takes to get your birds.

One of the best tips I learned years ago from Buck Gardner is to always have a hand towel or two in your blind bag if you are the one working the dog.   This is a lifesaver on cold water hunts and to be honest I keep a new one in my blind bag on every hunt.  I also keep some handwarmers in my pockets so when I dry my hands off, I can then slip them in my jacket or wader pockets.  Another cool feature on our outerwear items we have two small pockets back by your kidneys so you can place 2 handwarmers in there to keep your core at the right temperature.
FIELD HUNTING
The first thing is to make sure you are layered well with clothing and while setting up don't have every layer on. If I end up with a jacket and bibs on, I will not start with those on at setup.  I also never start with a beanie on as my head gets too hot and then cools off to quick.  If your head is cold, you are cold, just like your core. 

The best thing in a layout blind has been our Hot Seat and Electronic Hot Seats.
Upon compression, the styrene bead padding naturally generates heat, creating the ultimate layer of comfort between you and the ground. https://fabrand.com/collections/blinds/products/hot-seat

The Electronic Hot Seat combines the heat generated from styrene bead padding and 3 electronic heat cells to create the ultimate level of comfort.
https://fabrand.com/collections/blinds/products/electronic-hot-seat-with-power-bank
The birds will sit longer than normal and come out later in the day when the sun hits or when the temperature gets a lot higher than the morning.  They still must eat, but they still must conserve their energy and keep water open.  They will not fly as far to feed so being close to their roost will help, but not too close to blow them out.   Group your decoys closer than usual as they will huddle more tightly in cold weather.  Throwing sleeper shells in the spread will help with realism because if there is snow on the ground the geese will sit and melt it so they can then get down to the food easier.   Snow covers or digging your layout blinds down will help with concealment or use that fence row with a stand-up blind.